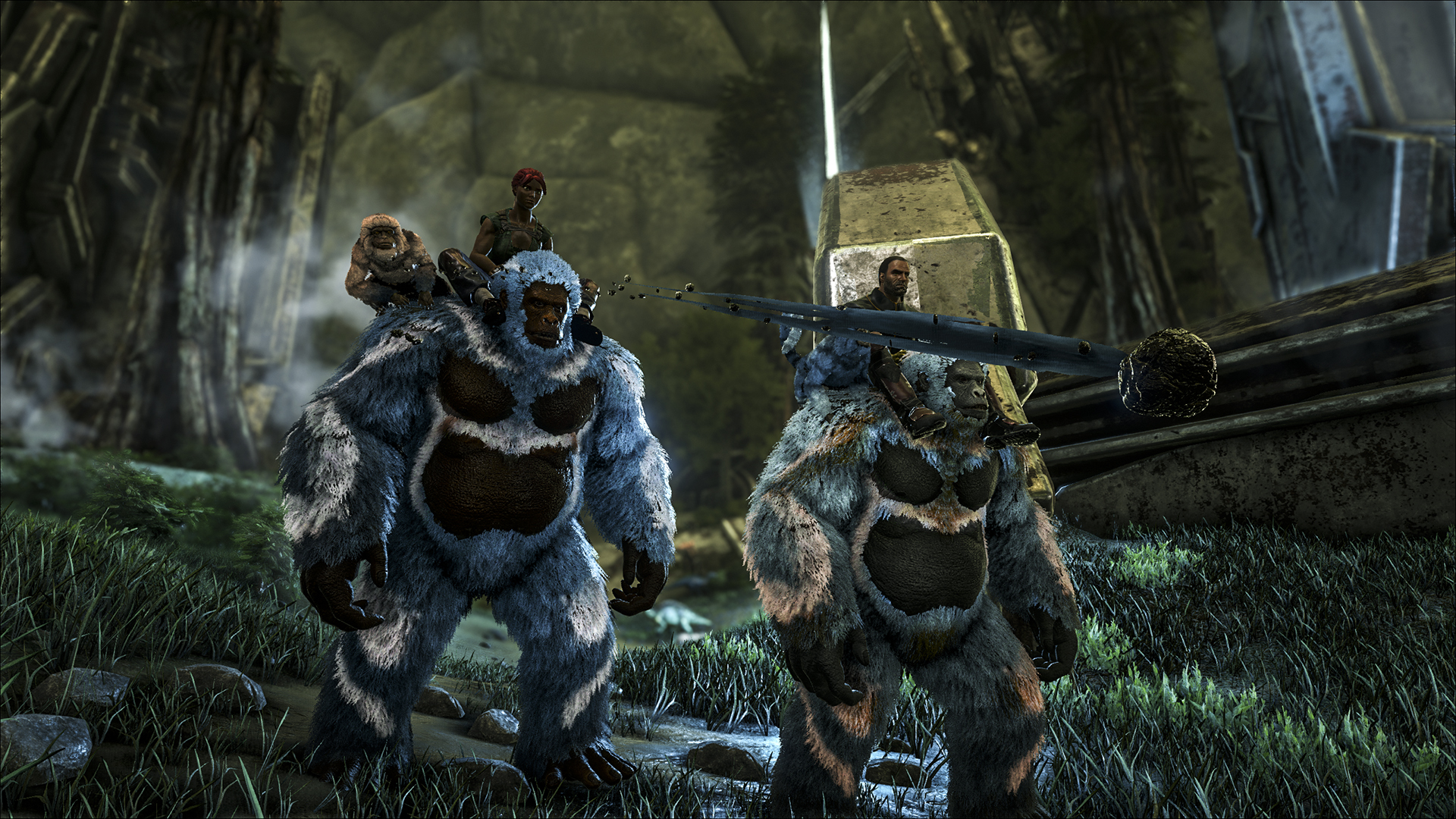 https://www.youtube.com/watch?v=a1T-fyt8Hvg
Patch v278 finds its way hopping onto the ARK with many new features, fixes, and a bunch of tender loving care for some old friends! The Rex, Procoptodon, Gigantopithecus, Direwolf, and Direbear all find themselves receiving both gameplay and visual upgrades!
Dino TLC - The Procoptodon!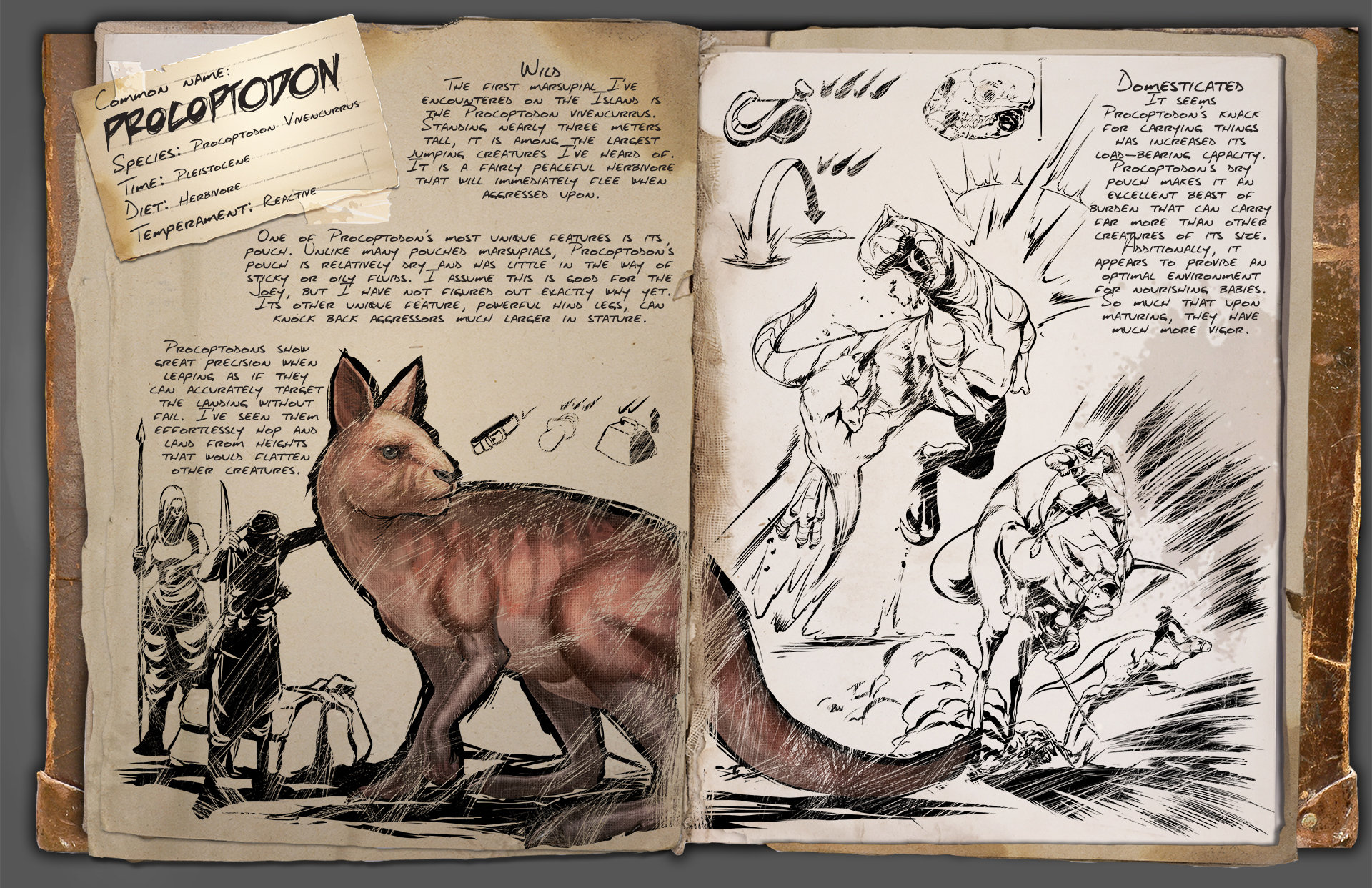 - Receives a model update, animation update, sound pass, and some new abilities:
- Will take reduced fall damage
- Carry weight will be noticeably increased
- Can carry small creatures and baby dinos in its pouch
- A knockback kick which can affect significantly larger dinos
- Added an aimed jump which can be used by holding down the Jump key
- Carried characters in a pouch have reduced food consumption rate when carried by Mate-Boosted Female Procoptodons.
- Babies imprinted while in a carried Procoptodon pouch receive more affinity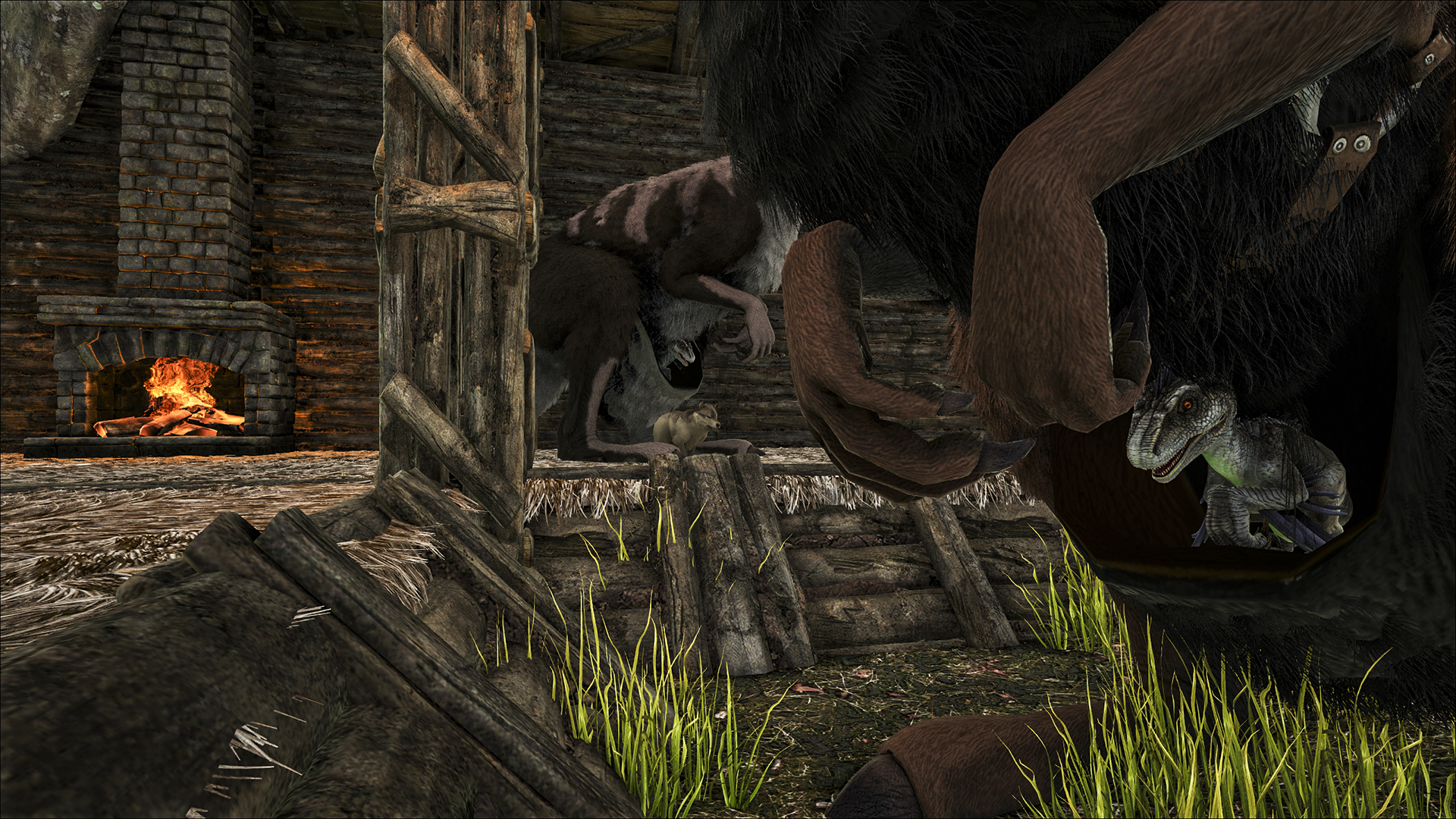 Dino TLC - The Gigantopithecus A.K.A Bigfoot!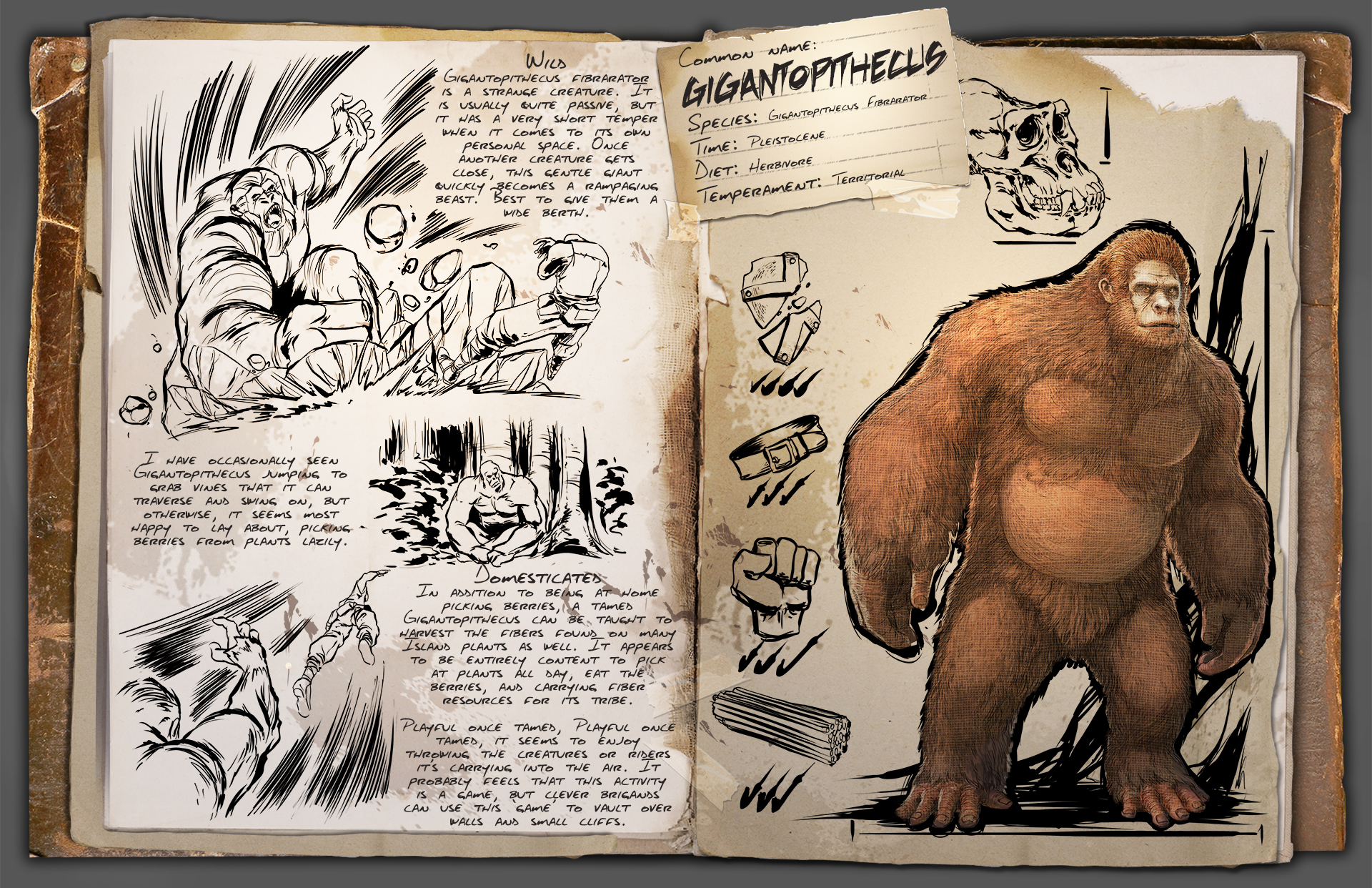 - Receives a model update, animation update, new fur, sound pass and some new abilities:
- The Bigfoot will receive an armour-degrading attack; this means when it fights, it'll do more damage to your armour's durability. It is important to note that the armour-degrading attack will not affect the Yeti creatures found in the game.
- Added the capability to climb ziplines (but not jump between them)
- Added a jump
- It can now carry and throw small creatures
- Throwing has been made more accurate, similarly to crabs with targetting cursor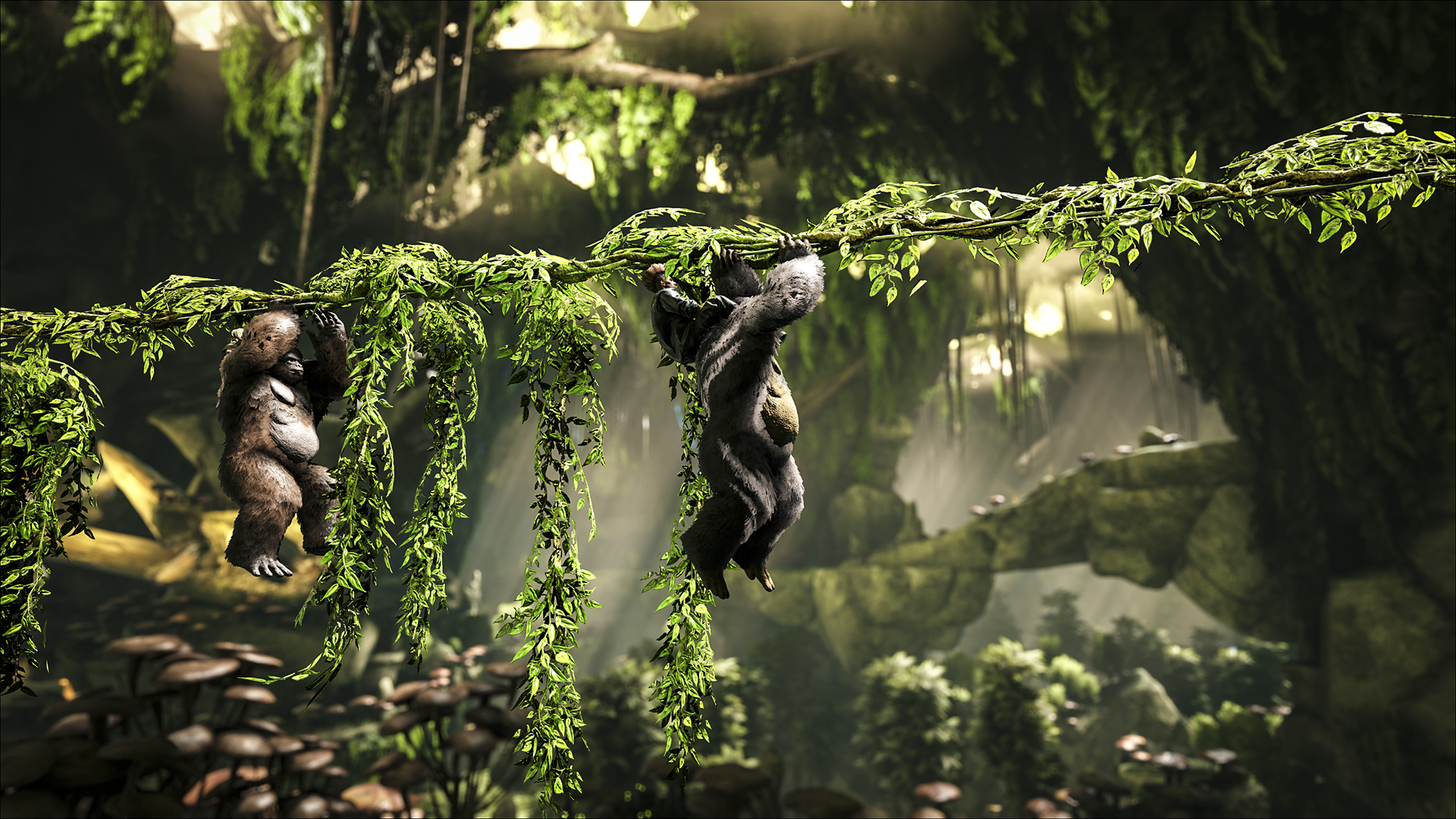 Dino TLC - The Direbear!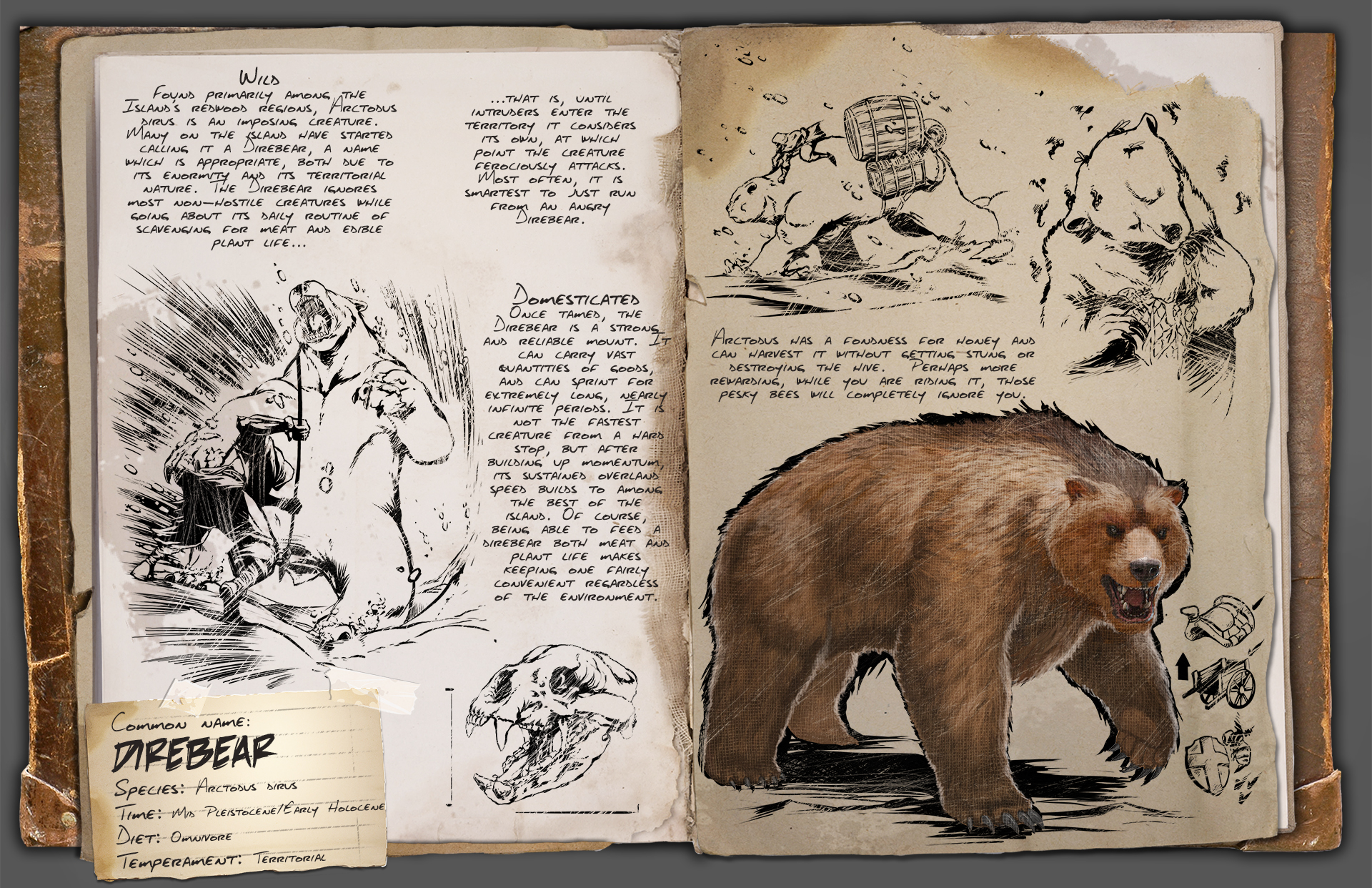 - Receives a model update, animation update, new fur and some new abilities:
- When riding a Direbear, players will be immune to bees. They won't be able to knock you off your bear, and they will target focus the bear instead of the player.
- The Direbear will also be able to harvest honey from wild beehives without attracting bees or hurting the hive using its alternative attack. Plus the amount of honey it receives will be 3x the standard amount.
- Increased swim speed
Dino TLC - The Direwolf!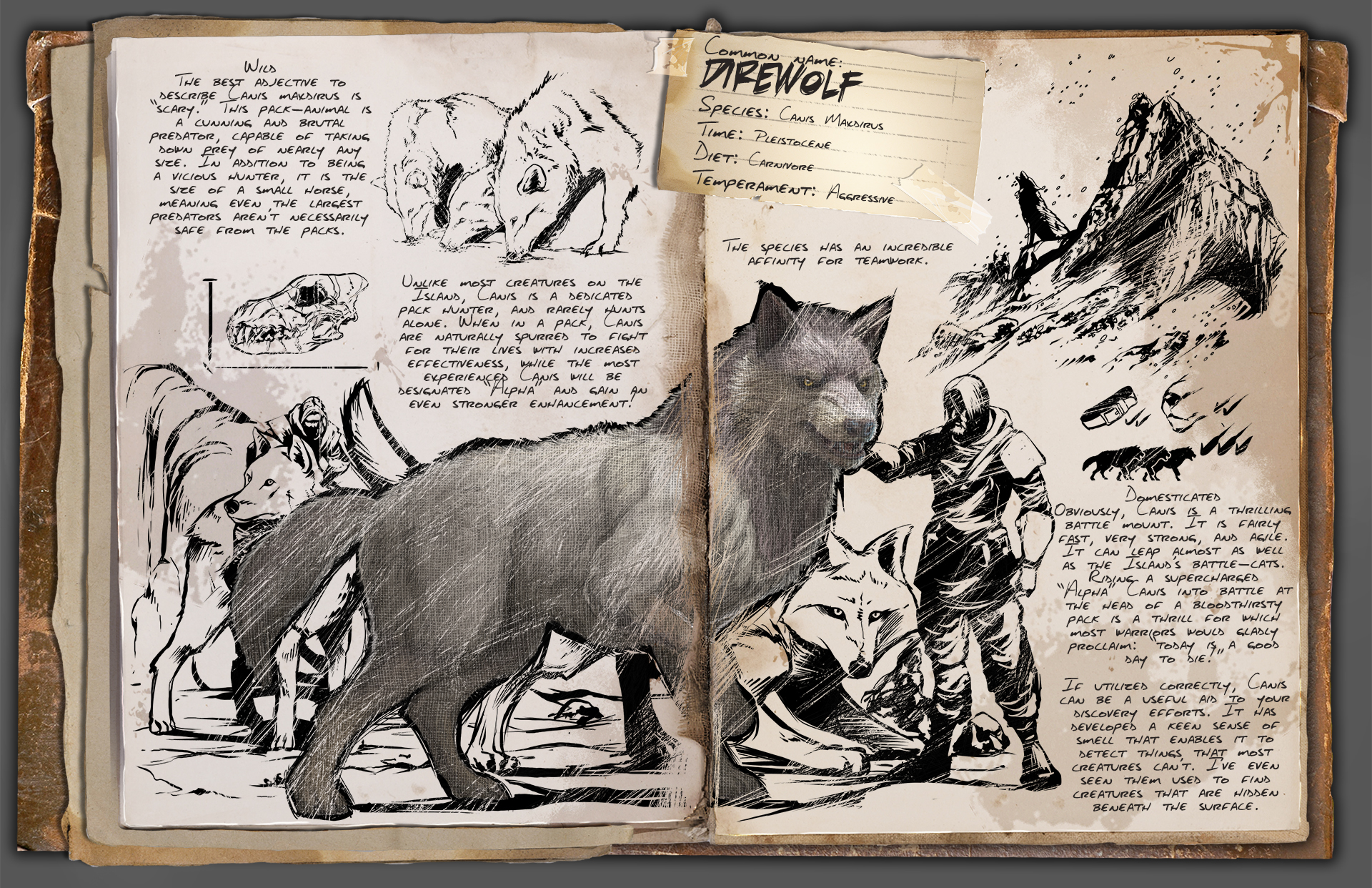 - Receives a model update, animation update, new fur and some new abilities:
- Howl now activates a pack buff for 90 seconds (with a 1.5 minute cooldown). When the Alpha howls, the pack also howls. The pack buff strengthens the Alpha, as well as its pack (reduced amount vs Alpha)
- Hunter's Instinct passive buff which will allow it to sniff out people/creatures with less than 50% health
- Sniff tertiary ability to indicate nearby explorer notes, or to detect buried/stealth creatures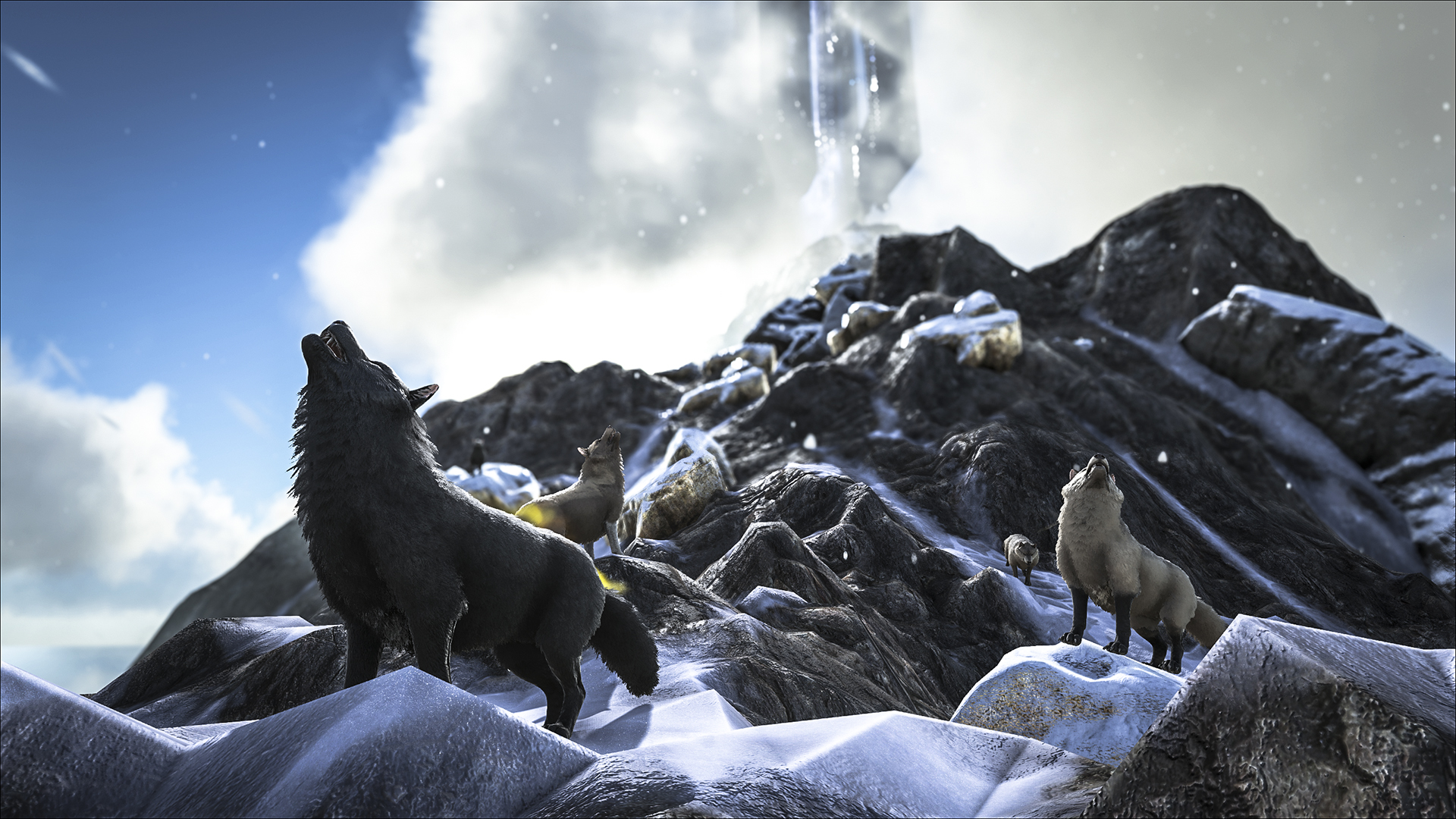 Dino TLC - The Rex!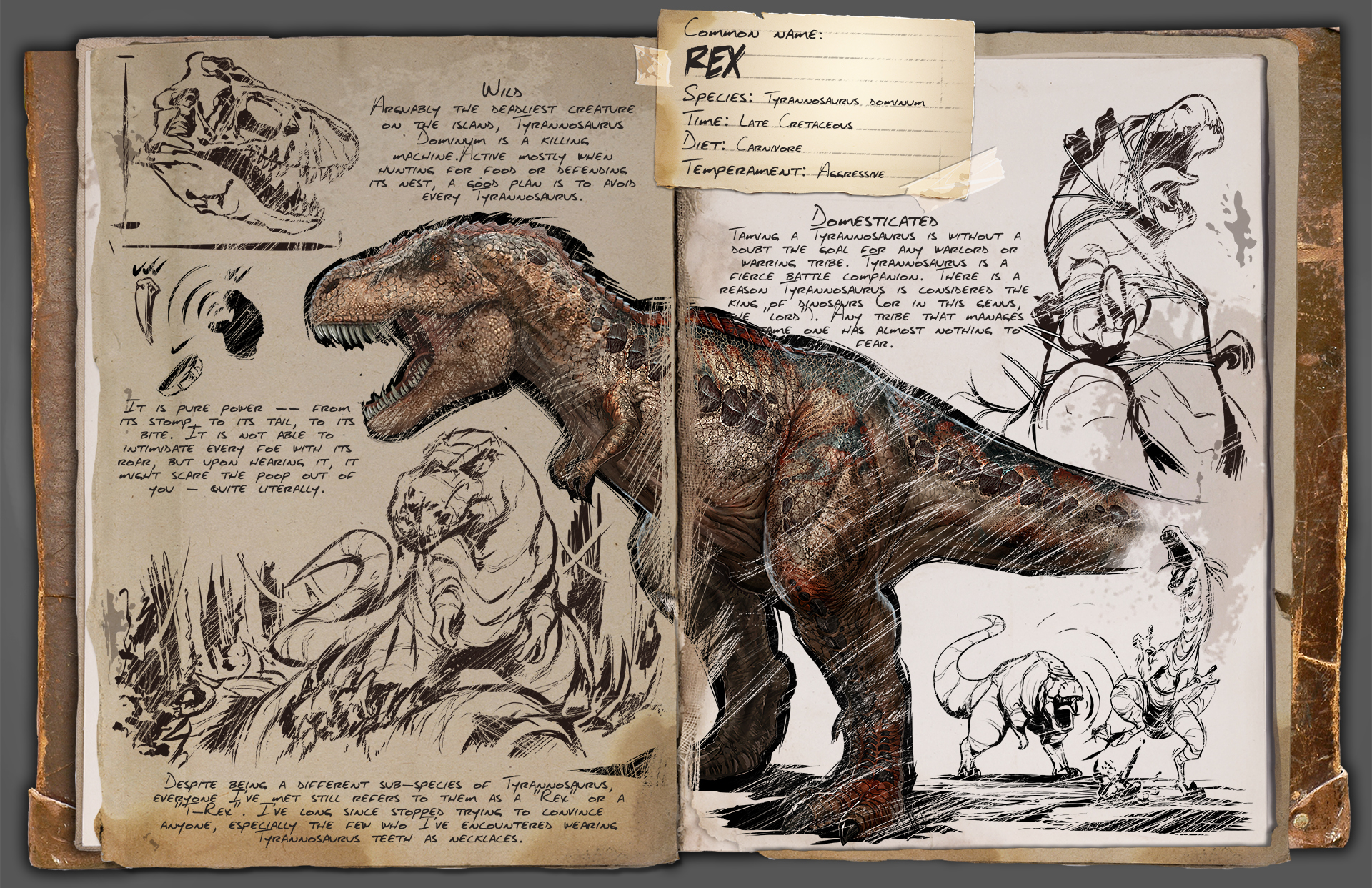 - Receives a model update, animation update, and some new abilities:
- Its roar should receive a CD and make non-allies (under a certain dragweight) poop to act as a small stun/interrupt. There will be a cooldown on victims so that they cannot be pooplocked continuously.
- The roar will not be able to scare anything above its level
- Roar will cause players to poop but not stun them
- Rex's ability to climb over small rocks and steeper slopes have been improved.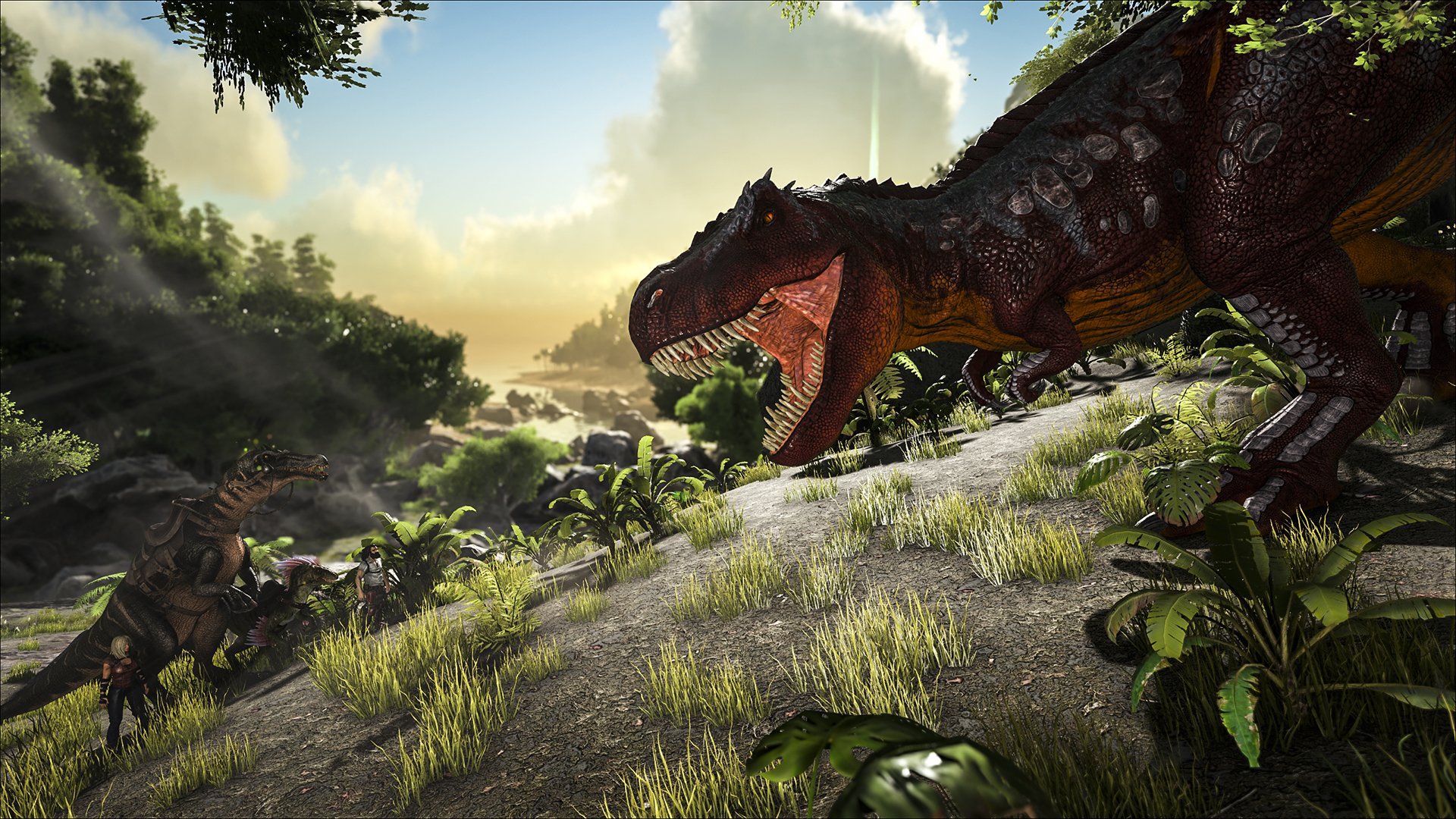 To find out all the information on what this patch brings to ARK, check out our announcement on the Community Hub!
[survivetheark.com]
TLC Phase 2 Preview!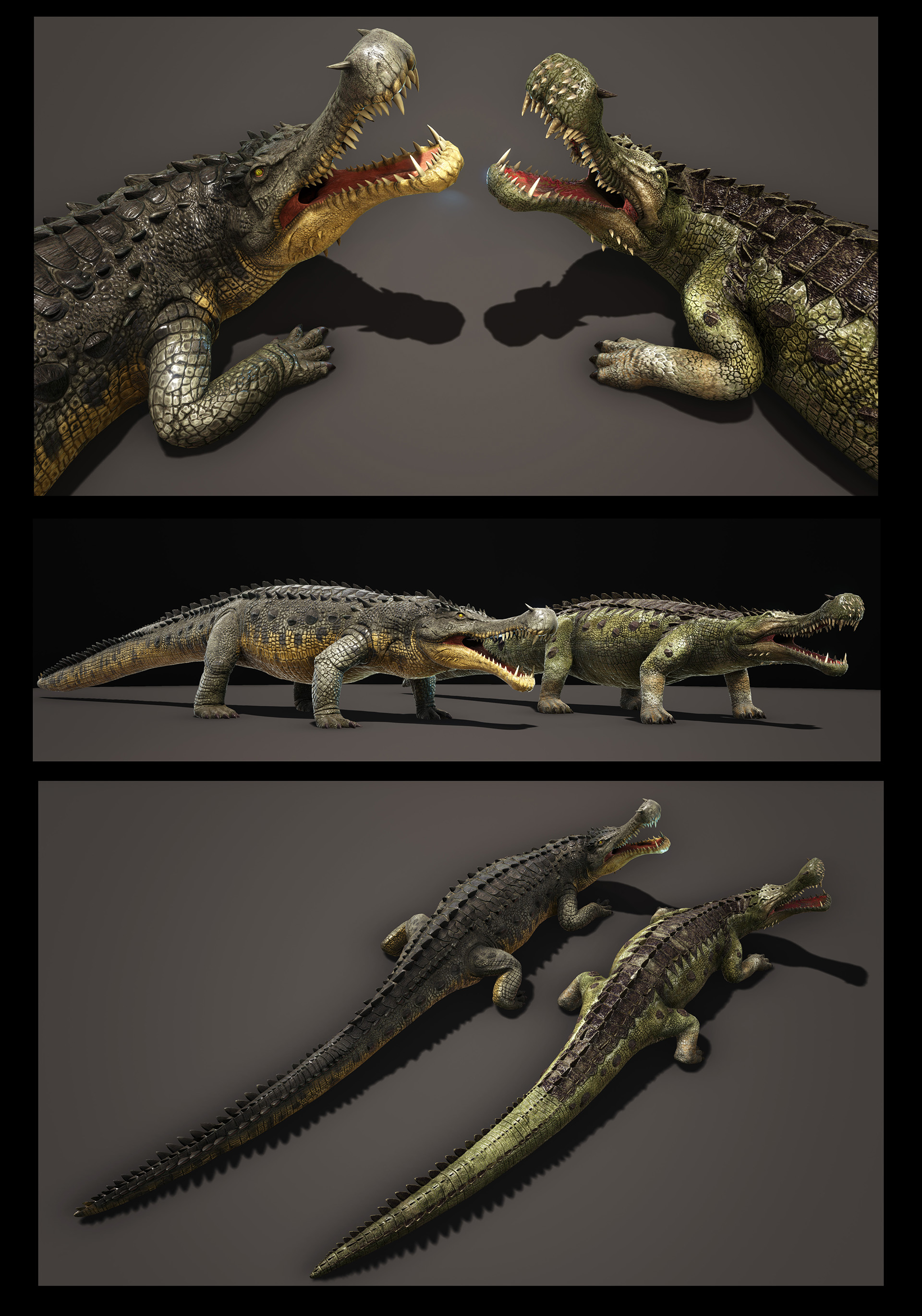 Introducing -- The Sarcosuchus! The Sarco has been an often requested creature to receive a TLC pass. One of the earlier creatures added to the game, over time it has become overshadowed by other predators. On top of its visual update, the Sarco will also be receiving new abilities to better keep it in line with the other carnivorous creatures of the ARK.
The Sarco will be given three new attacks:
- A grab and roll attack, also known as a Death Roll. With smaller creatures the Sarco will be able to grab and roll with them in its mouth while with larger creature it will grab on and spin aggressively. - A 180 degree attack wherein it can attack something directly behind itself by swinging its body around and biting behind itself. - A short lunge attack where it'll be able to lunge forward to take its prey by surprise.
Sarcos are natural deterrents for Piranha's making them valuable partners when travelling through waterways and swamps. The Sarco will also prefer fish meats over regular meat for taming, and when idle will rest with its mouth open in a permanent toothy-grin.
Please remember that creatures showcased for upcoming TLC are still works-in-progress and are therefore subject to change before final release, which includes both visual redesigns, as well as gameplay changes.
The Great Migration #2!
Today marks the beginning of the process of removing our lower population ARK servers on PC from our Official Legacy network once again. Over time the ARK population has migrated from legacy to non-legacy and in its wake left hundreds of servers with sustained populations of 0-1 players in a significant amount of cases. In addition to taking down these servers, we will also be putting up new servers onto the network across all platforms for players to enjoy a fresh start.
Here is a quick breakdown on how this process will work.
Taking Down Low Pop Servers
With calculations based on sustained player-count as well as the popularity of game mode, we will be removing the lower 40% of legacy servers, most of which retained 0-1 concurrent population.These servers will be taken offline and some will be re-purposed for new, fresh servers that will be put up on March 9th. Any existing server that is not considered a low pop server and is not taken down will still exist on the Legacy network.
Legacy servers will continue to remain on a separate cluster from the new cluster, which means you will not be able to transfer anything between Legacy servers and the new servers.
Servers Up for Deletion
You can find the list of legacy servers that we will be deprecated here.
[survivetheark.com]
How To Move Servers
If you are unfamiliar with the process, you are able to upload your items, creatures, and player through the Obelisk terminal, supply drops, as well as the Tek Transmitter. Survivors are advised to use Cross-ARK immediately to relocate their belongings onto a server that is not included in our take-down list above.
Allocation of New Servers
We know you are all very curious about this, but we don't have this information ready to share quite yet. What I can tell you is that we plan to continue to support all current existing game modes in some capacity, so you won't lose access to your favourite way to play the game. This means that lower population token servers won't be deleted if they are the only server of that gamemode. We will be mainly focusing our efforts on strictly PVP and PVE servers on all maps, but will allocate servers to the other game modes based on their popularity.
Server Saves of Deleted Servers
We will make the save files available as soon as we can, which will likely be sometime before March 9th. We will host the PC files which anyone can download and then you are welcome to re-host the save file for your own use.
Valentine's Day Event!
Starting on February 13th for 48-hours, love will fill the air as we celebrate Valentines Day with our #MateBoosted Event!
The ARK will be placed under Cupid's loving spell. With this event, creatures have also been affected by Cupid's spell in the following way:
- Tames have a 5% chance to drop a Chocolate Cake when they mate. A Chocolate Cake can be used for a Full Heal or to advance 50% of a creature's taming affinity bar.- Red, Pink, and White colored wild creatures can be found wandering the ARKs searching for true loves kiss.
All servers (including Officials) using the following commandline parameter:
-vday
can get some extra mate-boosted bonuses:
- Mate Boosted range increased by 2x- Mating Speed and Mating Recovery increased by 3x- Creature Maturing and Egg Incubation speed has been increased by 3x- Baby Food Consumption has been decreased by 1/3
Survivors also have the opportunity to send out their own customs Valentines Day card to their loved ones. Head over to
http://playark.com/valentines/
and create your custom card! We will be adding new cards for this year closer to Valentine's Day. Be sure to send us a tweet with your image attached and the #MateBoosted, so that over the course of the week we can retweet your loving messages!
To find out all the latest information, as well the full patch notes please read our entire announcement on the Community Hub!
[survivetheark.com]